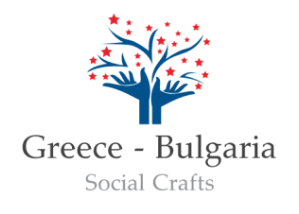 Main activities
• Preparation of activities - preparatory studies within the CB area (focus on traditional craftsmanship, employment of disadvantaged people, social economy, etc.), study visits abroad focusing on best practices.
• Awareness Sessions - activation events for all parties, training activities targeted to artisans, disadvantaged people, local authorities, sponsors, and other stakeholders.
• Developing a Joint Guide for new Work Integration Social Enterprises.
• Establishment of a network of two CB Employment Support Centers for inclusion in traditional handicrafts that will be responsible for operating the envisioned e-Promotion activity and delivering (in house) services to traditional artisans (act as incubators) and disadvantaged persons (acting as employment and carrier centers).
• Development of a pilot insertion programme offering support to 40 artisans and 100 disadvantaged persons.
• Development of mobile units that will be responsible for providing (on the user site) a number of aforementioned support services to artisans and disadvantaged persons in remote areas (another 40 artisans and 100 disadvantaged persons).
• Preparation of open contest for novel business ideas in the field of traditional handcrafts, with financial prizes (3 best ideas) for winners, plus support to prepare detailed business plans and establishment of their new social enterprises.
• Establishment of a fully accessible e-Promotion platform for handicrafts from the CB (in the form of an "online Social Mall").
• Developing a mobile app for members of the network (handicraft sellers).
• The production of supported Artisans Catalogue 2018 will be created.
• Organizing two traditional festivals to support structures and artisans to present their products and promote the Project, the Employment support centers and the online platform.
• Networking with international organizations, educational institutions, etc.
• Creating an online observatory system for impact monitoring.
The main activities of SocialCrafts project will be implement in Razlog, Kavala, Blagoevgrad, Thessaloniki and Haskovo, covering 5 out of 11 NUTS III areas and all four (4) administrative regions of CB area (GR 11, 12, BG 41, 42). Partnership has been structured in such a way to maximize geographical coverage, as partners will act as regional and local antennas to spread the message to adjoined areas.